History of Our School 
History of St Francis' School 1880 to Present Day
The school was founded in 1880 by Rev Canon Francis Roe, the Parish Priest of Caterham.
When the first pupils started their education at St Francis' School over one hundred and twenty years ago, Queen Victoria was on the throne. The children and their teacher worked together in one room at the back of The Sacred Heart Church, the room we now know as the Old Hall. The teacher lived in a small dwelling between the schoolroom and the church.
Pupils were taught to read, to write and to do arithmetic. There would be few books in those early days and all of them would be found within that one schoolroom. The school flourished, and ninety years later had expanded to the extent that the accommodation occupied three sites with vastly improved facilities. The Old Hall continued to be used together with the Squash Court and Essendene Lodge, which had been acquired by the Parish to house the main school. The infant department eventually moved to Burntwood Lane.
The headteacher at this time was Miss F. I. Bold, who was at the school for 27 years. In 1969, the children in Junior Four achieved fame by singing on an LP with 'The Spinners', a popular folk group, who were friends of Miss Bold. The record was called 'The Spinners Clockwork Storybook'. The record sleeve picture shows the St Francis' children having a tug-of-war.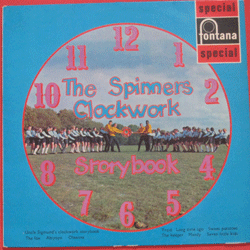 1948 – 1975 Miss Bold
In 1974 St Francis' School was relocated to a new purpose built school set in its own spacious grounds on the present site in Whyteleafe Road.
The grounds included 3 football pitches, 2 netball courts, cricket nets and an extensive open grassed area adjoining woodland and farmland. Several areas within the grounds were set aside and managed as part of a long-term environmental conservation project. These areas included meadowland, a spinney of a hundred trees, hedgerows and a pond. They offered ample scope for first hand environmental studies and provided an exciting extra dimension to classroom learning.
1975 - Present Day
The school has continued to expand and improve its facilities. Currently, we are a two form entry school with new buildings and classrooms to accommodate our most recent expansion. Despite this, we have not lost our outside space and wonderful sense of community that we had back in 1880, but the opportunities now available to the children would have been beyond the imagination of that early Victorian classroom!
Headteachers at St Francis
1948 – 1975 Miss F.I Bold
1975 – 1989 Mr K. Longley
1989 - 2000 Mrs S. Reynard
2000- 2010 Mrs M. Clerkin
2010 – 2012 Mrs. M. Clerkin/Mrs. T. Burke (Joint Heads)
2012 – 2013 Mrs T. Burke (Acting Head)
2014 – Present Mrs M. Wheeler