Father Sean Visits and Swimming Gala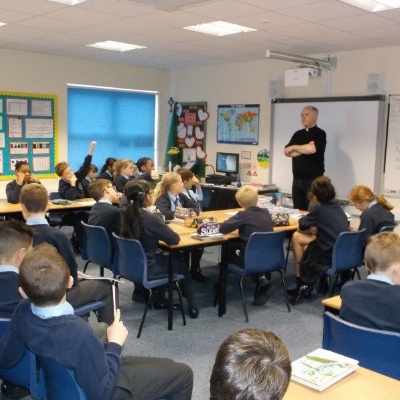 Posted on November 23, 2015
What have Linden been up to this week?
This week 10 children from Linden and Williow were chosen to train for the swimming gala which takes place on the 24th of November (tomorrow) at Warlingham school. We all did our best at are practice races, we will all compete in our strongest category!
Good luck to everyone involved.:)
Father Sean from Sacred Heart came to visit us in Linden class last week to talk to us about his ordination. We found it very interesting and he was happy to answer our questions. He told us about when he received his calling and what inspired him to become a priest. We found out he prays at least seven times a day! Thank you to Father Sean.
Two weeks ago St Francis had a superhero day to raise money for Children in Need, we raised an amazing amount of money, over £400! Everyone came in fabulous costumes and made a great effort.We took time out to think about the less fortunate and prayed for them.
By
Maxwell & Caolan