Father Sean Visits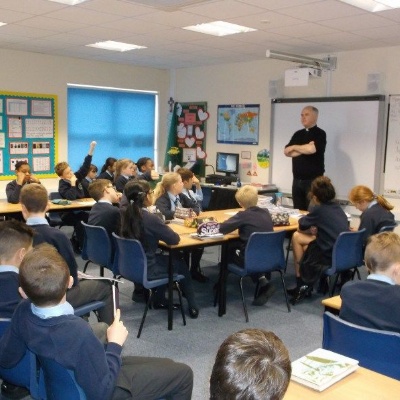 Posted on October 19, 2015
Father Sean visits Willow Class!
Father Sean of Sacred Heart gave Willow an inspirational talk on unconditional love and what it means in the respect of family. He was explaining the power and grace of unconditional love and the concept of family members. Father Sean was helping us with our R.E topic - Loving. He was saying what is the strongest type of love. We found it very interesting.
By
Charlie & Cameron.
Visit from Father Sean & Superhero day!
Two weeks ago we had a superhero day to raise money for Children in Need. Lots of children came in their costumes and looked fabulous. there were different types of costumes some children even came as Pudsey!(The Children in Need mascot)We could see that a few had thought outside of the box in their ideas.We raised over £400 as a school which is a fantastic amount.
Last week Father Sean from Sacred Heart visited us in Willow class and spoke to us about Ordination. We found this very interesting, all the children were full of questions. Father Sean told us he was inspired by Thomas Becket. He shared with us how he became a priest and when he received 'the calling'. The calling is when a person believes God has chosen them to become a priest.
By Marcus & Leeroy