Happy Christmas from Hornbeam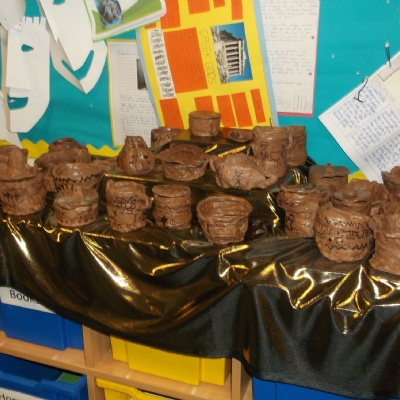 Greek Pot making
A couple of weeks back we made Greek vase's and had a lot of fun. We also made an extremely big mess. We made them out of clay and designed them the day before. Lots of us failed numerous times, but made them eventually made them and we decorated them last week.
Christmas Cards
A couple of weeks back we made Christmas cards. We made one for our families and one for some elderly folk at Douglas Brunton centre. Inside we put our letters and put mosaics on the front.
Greek Theatre Masks
A few of weeks back, we made Greek masks. The masks all had different expressions including; happy, sad, angry, afraid and a few had medusa masks. We also added special features using paper.
Tests
A few weeks back Hornbeam class did three tests; maths, English and reading. With the score of 46 out of 50 Sam got the highest maths total and Jessie got the most marks in the reading test.
Alexander the Great Poems
This week we have been creating poems about Alexander the great. On Monday we made a rough draught of it and we wrote them up in neat today (Tuesday 20th December 2016).
Scratch Games
This term we have been programing games on scratch. It was quite hard for some but easy for others but overall it was exciting. Everyone made different games. Some did mazes, some did car games ext. We all had fun doing are games and learnt a lot about programing.
Christmas Carol Service
On Monday 19th December 2016 ks2 went to a carol service at 19:00 we sang nine songs with year five leading calypso carol. After we sang we made our way to St. Thomas hall to have mince pies and a drink.
Christmas Lunch!!!
On Tuesday 20th December we had Christmas lunch at school. It including turkey, potatoes, sausages, peas, stuffing, carrots and for pudding; a chocolate muffins.
Adam and Archie