Kenley Aerodrome.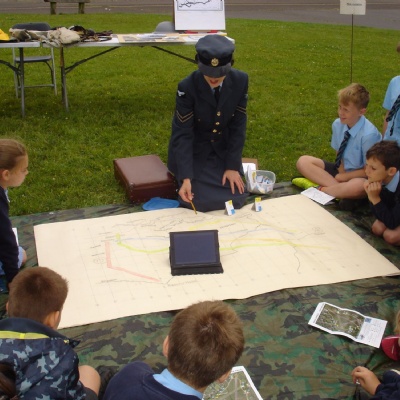 Year 5 enjoying the WWII activities.
On Thursday 29th June Year 5 enjoyed a morning at Kenley airfield. They were split into 3 groups and went off to enjoy different activities.
The activities were: Pilot re-enactment, were 3 men, dressed as WWII RAF pilots and a woman as a Wren gave us accounts of what life was like on Kenley airbase at the time of the Battle of Britain. The children got to try on different parts of the uniforms, such as life jackets, parachutes, hats and jackets. They also saw a plotting map and found out how it was used during the war.
Spitfire: The children all got to get into the cockpit of a real spitfire and speak to the engineers who looked after the planes.
War poster art: The children looked at the posters that were around during the war and were asked to come up with their own versions.
Air raid shelters: the children were able to go inside the shelters to find out what it would have been like to be sent down there during an air raid.
Airbase: The children were given a tour of some parts of the base still standing, such as the wall where the planes aligned their guns and the banks where the planes would have been kept.