Christmas in Hazel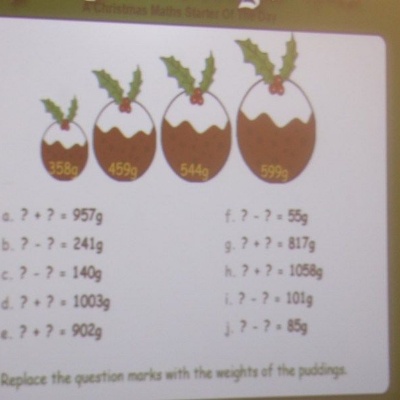 Posted on December 18, 2015
Hazel's Christmas week
Science Investigations - Healthy Teeth!
In science we did an experimet. We pretended that eggshells were our teeth. We used lots of different liquids which were coke, water, milk and vinegar. The vinegar rotted the eggshell the most. The milk didn't rot. We had to fill in a sheet. Pine and hazel did the experiment together.
Hakiu
We did a poem on Christmas the type of poem is called Haiku. It was very hard because you had to use the syllables of 5,7,5. Mr Palmer did some Haikus on the class. Hazel had lots of fun doing it.
RE Assessment
As we draw near to Christmas , we did an RE assessment about Advent and included the different coloured candles on a wreath. The colours are purple, purple, pink, purple, white.
Running for CAFOD
Aimee in our class ran 5 laps of our huge field, with other people to raise money for CAFOD. Lots of people sponsored her.
Puzzle puddings
We did some Christmas pudding puzzles where we had to add up big numbers. It was quite hard.
Sudoku
We tried some Sudoku puzzles when you have to put missing numbers into boxes. You have to put the numbers 1-6 in every row and every column too. There were 3 puzzles and not everyone did third.
Benicio also won a trophy outside of school for his rugby playing.
By Athena & Sam