Visiting Chirping Chicks for Science Week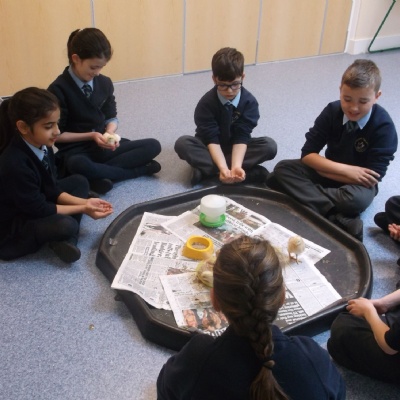 Last week we greatly enjoyed going to see our new born chicks. At that time only three had been born and Mrs Soares talked to us about the chicks, how they were born and she also explained facts about them. We had to be incredibly quiet so that we didn't frighten them. They were very cute but also very tired because they found it hard work to be born. Infact Mrs Soares told us that it was like doing five weeks of homework all at once. When Mrs Lambe asked us if we would like to investigate that for ourselves we politely declined.
This week we revisited the chicks. This time there were eight chicks. They were much bigger and fluffier than last week and were now allowed out of their incubator. This meant that some of us were lucky enough to hold one. It was extremely exciting! Mrs Soares explained that at the end of the week they would be moving to their new home and that all the girls would be staying together and all the boys would be staying together. We were pleased that they would be happy in their new home.