World Book Day Fun!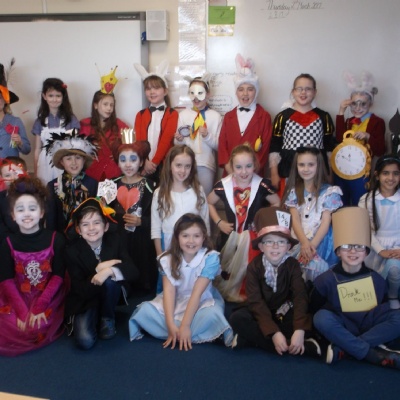 Throughout Book Week, Hazel Class have been enjoying learning about the classic novel Alice in Wonderland.
On Monday we watched the Disney cartoon version of Alice in Wonderland in preparation for the work we would be completing during the week. We also looked at the first chapter in Guided Reading and completed activities on that part of the story.
On Tuesday we completed Alice in Wonderland themed problem solving, researched facts about Lewis Carroll and created Alice in Wonderland character artwork using a range of materials.
On Wednesday we learnt about Carroll diagrams in maths and Daniel's Mum came in and read a story to us in Spanish and English. We also wrote Alice in Wonderland themed words in our handwriting.
On Thursday it was World Book Day. We had great fun dressing up as our favourite characters! Thank you to all of you for helping your children to look so fantastic! Again we solved problems involving Alice in Wonderland characters. In addition we wrote character descriptions using a range of techniques including: adverbs, adjectives, alliteration, similes, onomatopoeia and metaphor. During the afternoon we went and read some of our favourite stories to Reception.
On Friday we completed a maths challenge involving Alice in Wonderland characters, wrote a description of the world Alice entered by walking through the door and created some packaging designs for the Queen of Hearts Jam Tarts. We particularly enjoyed tasting them as part of our research!
Thank you to Amelie who made us all some delicious EAT ME biscuits for World Book Day.