Book Week Fun!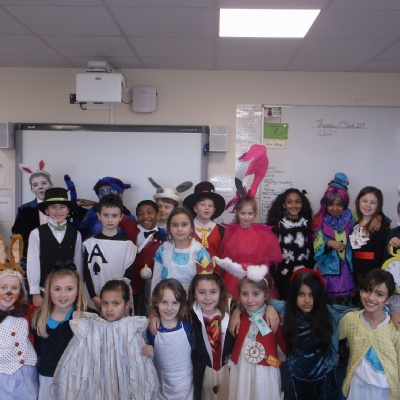 What a fun week we have had exploring the well known book of Alice in Wonderland. We started the week watching the film and finding out more about the author, Lewis Carroll. The children created a biography to inform us about the life and works of this author.
As the week went on, we drew our own characters from Alice in Wonderland and the children used a variety of paints, pastels, chalk and watercolour to add to their images. Some lovely pieces of art work were produced and they were then able to write desciptive paragraphs about the characters. On Thursday, we dressed up as our favourite chracter in the book and there were some amazing costumes! Well done everyone! We also got to share our favourite books with another class and a different teacher came to share their best childhood book.
On Friday, the children put themselves in the shoes of Alice and wrote about what they saw as they entered the door. Some super descriptve and imaginative sentences were shared by all of the children. Finally, we did some jam tart tasting, designed our own flovour jam tarts and designed the packaging that we would want to make relating to the theme. All of the children have had a great week learning about the book!