Christmas is Coming: Advent Silver Reflection, Our Fayre, Christmas Jumper Day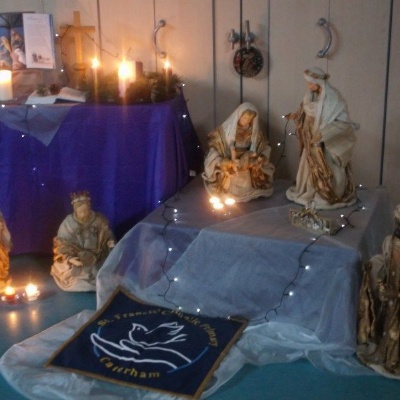 Posted on December 20, 2015
End of Term
Well, that's the term over and what a lot we've packed in! Throughout the last week the children have been writing the Christmas Story from the Annunciation and Visitation to the arrival of the shepherds and the wise men. We will do more work on Epiphany when we return in January. We have also completed our History topic on Rememberance Day and had an impromptu spelling test of the 100 most frequent words used in writing. Our main topics next term will be Christopher Columbus and Neil Armstrong (History), E Safety and research (ICT), The Gospels and Mass in RE. It would be helpful if you could do some 'clock watching' with your child over the holidays. We will be learning to tell the time to the nearest 5 minutes.
The crib on the altar set the scene for Christmas and we made paper chains and decorated the classroom which felt very festive. On Wednesday the Christmas lunch went very well and the children looked great in their colourful jumpers.
Thursdays assembly was a reflective time where the children contributed their silver coins for Cafod and thought about those less fortunate than themselves. As a year group our money is going towards a vegetable garden and teaching a child to read. Thank you to everyone who gave so generously.
On Friday, I had intended to have a more relaxed morning but by the time the children had corrected work in books, including some problem solving and attended the Celebration Assembly, there wasn't much time left for play! Still, they have two weeks to relax now and I know some of them are more than ready to have a rest. There is no homework set for the holidays except spellings and of course reading. It has been lovely to see the progress the children are making with this, so please keep up the good work and hear your child read as often as possible.
There are a few photos below. Some show the silver collection at the Cafod assembly and the others are photographs which appeared in the local paper. I have also included a few taken at the Xmas Fayre two weeks ago and one, of my youngest daughter, Laura, who came in to help make sure all the children read on the last day!
I would like to take this opportunity to say a huge thank you to everyone who gave me gifts and cards. My Christmas came early and I am extremely grateful to you all. The voucher is particularly useful and very generous and I will definitely enjoy spending it!
So Happy Christmas everyone and a happy and healthy New Year!!