Remembrance - visit to St Lukes and the War Memorial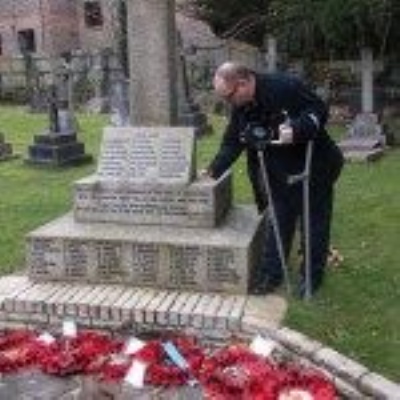 Posted on November 21, 2015
Walk to St Lukes Church
On Wednesday the children walked down to St Lukes Church to see the War Graves and the War Memorial and wreaths. They were greeted by Reverend Tim who gave an inspirational talk all about the history of the church, including the fact that it was the first church to be bombed in England during the second world war. One of the windows which was blown out had the glass pieced together again and is now still part of the church. He talked about the young soldiers from the area who went off to war never to return and showed the children where they were buried. He pointed out that not all the war graves were in one plot and sent the children to look for them and find out the reason why they were separate. It transpired that all the ones grouped together were in the air force. Having corresponded with Rev Tim since the visit he said he was impressed with the childrens behaviour and it had been a pleasure to show them around. Thank you to the parent helpers, Mrs Langan, Mrs Milek and Mr Keeler. As always the help is much appreciated.
On Thursday, we split into two groups in order to write and print prayers using either the computers in the ICT suite or laptops in the classroom. The children are becoming more confident with logging on and with basic word processing skills and hopefully will practise at home as well.
There was no literacy homework again this week as we are still encouraging the children to learn their words for the Christmas Production. There are lots of songs to remember and I was very impressed to hear that some of you have downloaded them!!! With 60 children to organise the two rehearsals we have had so far have been very interesting!!! Perhaps a Friday afternoon is not the ideal time to attempt this but we have to grab the hall time when we can. Happy weekend……………..