Keeping Ourselves Safe - Life Bus, NSPCC and Dance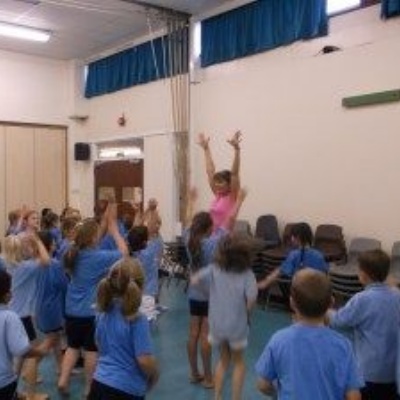 Posted on September 25, 2015
This week in Larch
We have had a busy start to the new school year in Larch Class. The children enjoyed the visit from the Life Bus where they learnt about the way their body works and how to deal with varying emotions in a sensible way. They met Colin and Harold the giraffe!
We also had a talk from the NSPCC and as you know, the children then did an aerobic workout in order to raise money for the charity. The photos were taken during the activity and as you can see it was great fun! Thanks to Mrs McEvoy for all her hard work and for being so fit! Thank you to everyone who came to the after school 'Meet the teacher' session. I hope I was able to answer any questions you may have had and that many of you who are able, will come in to help with reading and other activities.
Next week we will be walking to church on Friday afternoon. We will leave school at 1.45 and would appreciate any volunteers to walk with us. We will be celebrating Harvest Festival and the Feast of St Francis. We will be back at school for the end of the day.