Posted on April 22, 2016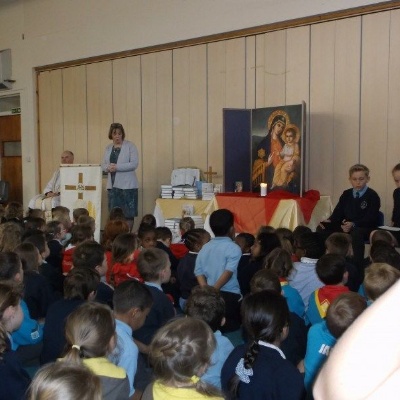 Disability Week, The Queen's Birthday, The Year of Mercy - Icon of Our Lady of Consolation
The week began with a visit from John McCorkell who was born with cerebral palsy. He talked to the children about his disability and how it affected his life and led a question and answer session. He also chose a few children to try using the wheelchair whilst wearing a blindfold and listening to his instructions.
On Thursday we celebrated the Queens 90th birthday and the children looked very colourful in their red, white and blue. It was an eye opener to hear who they thought the queen was married to and who her children were!!!
Today, the Icon of Mercy was brought to the school by Father Sean and we had a short Liturgy followed by the blessing of the new bibles (donated to the school by parishioners from Sacred Heart). It was lovely to welcome some of the parishioners and other visitors who came along too.