Thanksgiving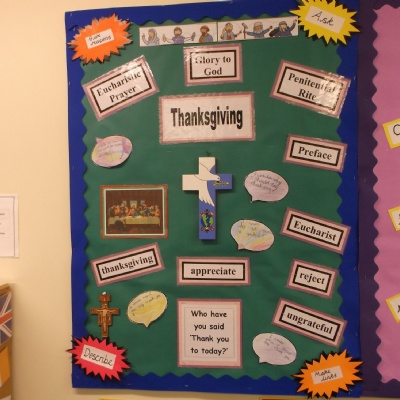 As we begin the month of February we also begin our new RE topic of 'Thanksgiving'. The children have been thinking about all the things they should be thankful for and also different ways of saying thank you. The topic involves learning about the Mass and it would be very helpful if you could point out the different prayers and responses when you are at church.
Next week we will be celebrating Chinese New Year (the year of the pig) and also it is Internet Safety Week. We shall be looking at ways of being safe when using the internet and also the importance of telling grown ups if there is anything unusual coming up on screen. This could be a good opportunity to talk to your children about their use of the internet and how often/long they use it for! Hopefully in year two, this is not something of concern as yet, however sometimes, if there are older siblings in the family, they could be aware of games that they really should not have come across.
Well done to everyone who managed to attend each day despite the icy conditions this week.... please remember to have spare footwear if the children are wearing wellies to school. Most of them do remember their shoes!