Flood at St Francis!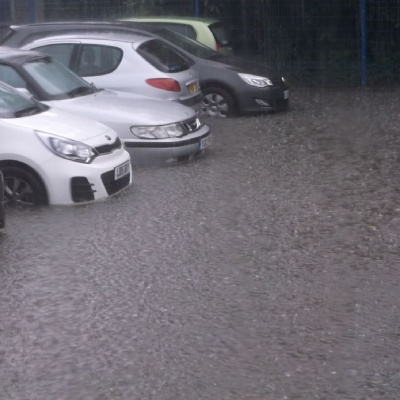 What an adventure Tuesday afternoon turned out to be! Apparently three weeks of rain fell within one hour and who could believe how much chaos that has caused here at school. To begin with the thunder and lightening was the cause of most concern with some of the children becoming quite upset. However, we then realised that water was coming up through the floors and it wasn't long before we were literally paddling along the corridor. Having assembled in the hall with the rest of the affected classes, the water followed suit and we had to evacuate into the new block with the year five and sixes. The children were very well behaved and I was very proud of them. After the children were picked up we were left to take in the devastation. I have uploaded a few photos to give an idea of what we faced and included one of our beautiful classroom before it all happened.
The carpets have now been lifted and everything cleaned and put back in place. Luckily, in Larch, there was nothing at floor level so everthing has been saved. I'm sure you have seen the school newsletter so will know what the repercussions will be. I will be sending PE kits home on Monday as the children were wearing these at the time and it would be wise to wash them especially the plimsoles! All lessons will continue as normally as possible and swimming will be on Monday as usual. Here's to a less exciting week!