Posted on April 18, 2016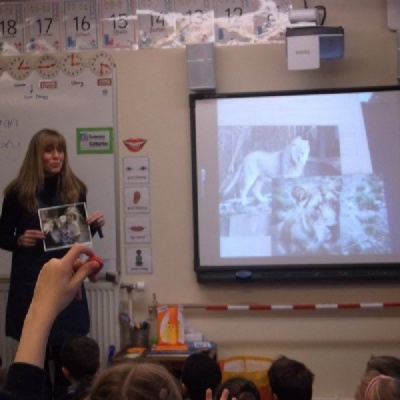 Zoo Keping, Sunflowers, Caterpillers, Matisse and Tim Peake in Space
Welcome back to the new term. We are enjoying our new science topic, learning all about plants and animals. Just before we broke up for Easter, Mrs Waddell came in to Year 2 to talk about her time as a zoo keeper. She gave a fascinating talk and the children wrote some interesting notes all about it.
The children all had a chance to plant a sunflower and we have been hearing all about how they have grown over the holidays. In the class, we are now growing broad beans and sunflowers and are testing to see how they grow best, with different combinations of light and water.
On Tuesday the caterpillars arrived and on Friday, so did some frog spawn and four tadpoles. On Monday we shall be having some stick insects. (Pictures to follow next week!)
In Wednesday's Art lesson, we started learning about the French artist Henri Matisse and how he used to 'paint with scissors'. The children all had a go at this and tried to copy one of his pictures.
Near the end of this busy first week, we all went in to the hall and watched a teacher from Hillcroft School asking questions to Tim Peake. It was great to be able to watch it on our new screen.