Our Book Corner, Maths and Measuring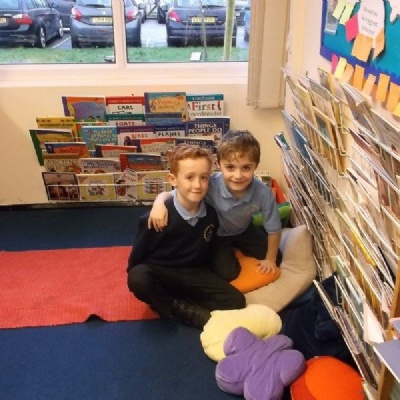 Posted on February 7, 2016
The New Book Rack has arrived
Beech Class has now got a new book rack for the non-fiction books. This was bought with money from the class fund, kindly given to us by the PTA. Thanks PTA!!
Our librarians enjoyed stocking up the new rack and are continuing to do a great job keeping the Reading Corner neat and tidy.
We have even more post-it notes on our board now. Well done to all of the children for thinking hard about what they are reading.
In maths we have started our new topic of 'measuring'. We began with using non-standard units to measure how much water a selection of containers could hold. We talked about the need for standard measures and by the end of the week, were working with millilitres (ml) and litres (l). Here is a website that we used to support our learning: http://www.iboard.co.uk/iwb/Measure-Capacity-Simple-114 .
It was great to see so many parents at our SATs meeting last week. Copies of the documentation given out at the meeting have been sent home for those who couldn't make it, together with a link to the information video that we showed (https://www.youtube.com/watch?v=M8MjPFWRQs0). Please note that the tests will only form part of the children's assessment in Year 2 and the emphasis is on the 'Teacher Assessment' which we are completing on an ongoing basis. Please come and see us if you have any queries.