Book Week and a special visit from Bishop Richard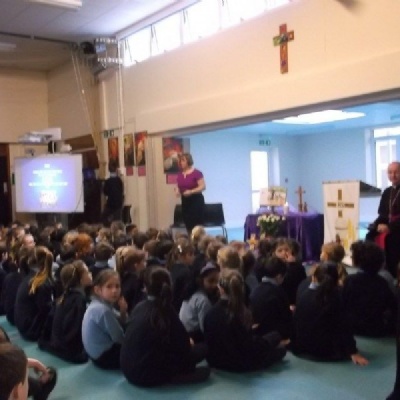 Book Week and a special visit from Bishop Richard
The children of Beech Class have been enjoying themselves a lot lately and doing plenty of learning at the same time. During our wonderful 'Book Week' when we learned all about 'The Lion, The Witch and The Wardrobe', the children also wrote their own adventure journey stories, dressed up as characters from the story and shared books with children from Hornbeam Class.
On Wednesday last week, Bishop Richard came in to lead a very special liturgy and bless our new hall extension and the new Year 4 classrooms. The children all behaved beautifully and enjoyed joining in with the singing.
On Thursday afternoon, the children did some amazing art work as part of our new art topic 'Can Buildings Speak?'. They went outside to do some rubbings of interesting patterns that could be found in the playground and on the school buildings.