Science,Space Seeds, Disabiliy Awareness and the Queen's Birthday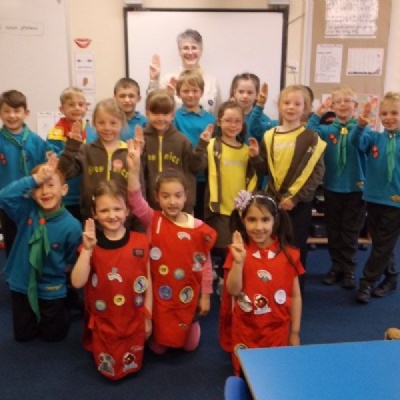 All things bright and beautiful
The children of Beech Class are continuing to enjoy their science topic on 'Plants and Animals'. On Monday we went out into the playground to spot what living things could be seen there. The tadpoles are eating well and getting even bigger, the stick insects are doing fine, the caterpillars are growing rapidly and the sunflowers and broad beans are getting taller and developing more leaves. We have been asking questions about what will happen to them and are watching everyday to see how they change.
On Friday, five lucky members of the class went out with Mr Mitchell to plant some rocket seeds as part of an experiment supported by the astronaut Tim Peake. Some of the seeds have spent time in space and some of them haven't. The test will show if there is any difference in how they grow. At the moment, we don't know which is which.
Last week was 'Disability Awareness Week' and the children enjoyed listening to John McCorkell's inspirational assembly. He spoke about his own disability and ran activities with the children to deepen their understanding of living with a disability. Two children from the class had a go at riding in and pushing John's wheelchair. It wasn't as easy as they thought!
We celebrated the Queen's birthday on Thursday by wearing red, white and blue and learning about the Queen's life. Thank you for all of the donations brought in on that day. The money raised will be going to a disability charity.
On Friday, the Beavers, Rainbows and Brownies of Beech Class dressed up in their uniforms for St. George's Day. It was great to see them all looking so smart and proudly showing off their hard-earned badges.
Thank you for all of the swimming forms. We are still in need of parent helpers, so please let us know if you can help.