A week full of Science, Maths, Poetry and Computing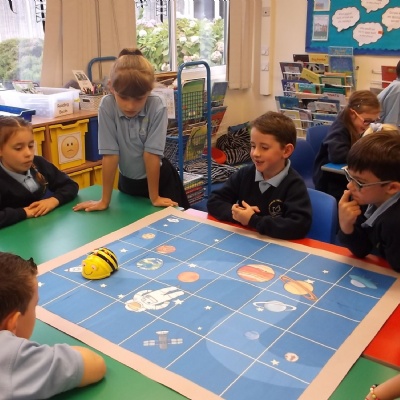 We also had our Harvest Festival and attempted to break a world record!
Science
As part of our Science topic on 'Everyday Materials' we went outside to investigate what materials are used around the school. The children worked beautifully in pairs and recorded their findings onto worksheets.
Maths
In Maths we have been learning about tens and ones (place value) and the children had great fun playing a game called 'Swapsies' in which they have to exchange ten 'ones' for one 'ten'.
National Poetry Day
On National Poetry Day Cherry Class came to visit Beech Class. The children performed 'sound' poems they had practised at home. Everyone was really impressed, especially Miss Gates.
Computing
We have been learning about algorithms in Computing and this week had a chance to program the 'Beebots' to travel around space. There was plenty of 'debugging' going on when the instructions were not right first time.
World Record Attempt
On Friday, between 11.00 and 11.30 we took part in a world record attempt for the largest Maths lesson. We compared times for running 100m metres. The children ran 100m and compared how fast we could run with Usain Bolt's world record time. Official visitors were there to see that we were doing everything properly.
Harvest Festival
We finished off the week with a lovely Harvest Liturgy led by Father Sean. Thank you very much for all of the generous food items that you donated.