Father Sean Visits - Baptism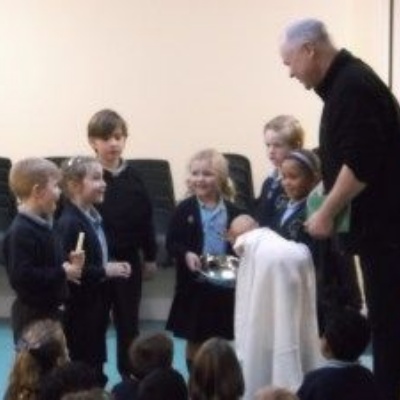 Posted on November 29, 2015
Phonics, Father Sean's visit and more 'Show and Tell'
This week in Beech class, as well as working hard on their assessment tasks, the children have been learning new ways of writing the 's' sound in their phonics lesson. They used the LOOK, COVER, WRITE, CHECK method to practise how to spell the words correctly.
(If you fancy using this method at home, the following website has a game of it:
http://www.amblesideprimary.com/ambleweb/lookcover/lookcover.html )
On Friday afternoon Year 1 and Year 2 had a lovely visit from Father Sean. A selection of children acted out a Baptism and Father Sean answered lots of questions and explained why baptism is so special.
The week ended with our usual 'Show and Tell' session. We were treated to a version of 'Who let the dogs out' by one of our very own boy bands, learned about a special toy aeroplane and heard about an exciting trip to see some wrestling.
Our Nativity production will take place the week after next.
Please remember to send in your requests for tickets.