Beech Keep Busy: Remembrance Superheroes and Baptism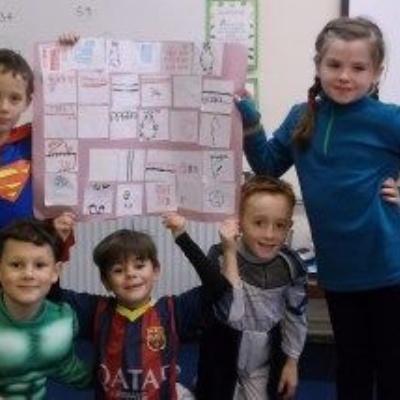 Posted on November 15, 2015
Beech keep busy
What another busy week it has been in Beech Class!
Remembrance Day
On Wednesday we had some visitors from Year 3. One of the boys brought in some artefacts from World War I that used to belong to his grandfather. He told us all about them and had even prepared some detailed notes to share with the class on the visualizer. Thank you very much for the informative talk which has helped us with our work on Remembrance Day.
Earlier in the day, at 11 o'clock, we all stood still for the two minutes silence to remember those who died in the wars. Some of the children wore their Rainbow and Beaver uniforms as a sign of respect.
Superheroes
Friday was 'Children in Need' day and the class dressed up as superheroes. They each brought in a £1 donation to help Pudsey to help children across the UK who need extra help in their lives. One team of superheroes did a particularly good job in their Maths, working brilliantly together.
In RE we have been learning about Baptism and how the Church welcomes new members. One of the class brought in her Baptism gown to share with us during 'Show and Tell'. We all thought that it was beautiful.